At the Vogue Philippines Anniversary Gala, celebrities, creatives, and industry leaders were invited to show up in their best black and white ensembles, with but one exception: pieces had to fall within the lines of the theme "Refresh and Rewear."
The limited color palette only became a gateway to creativity, as assemblages of texture were worked into familiar silhouettes. From draped and layered fabrications, pleated and embellished detailing, and pieces fashioned into amorphous shapes, see the guests' playful interpretations of the theme below.
Lukresia
Model Lukresia, widely known by her online persona "thirdworldbb" and one of our September 2023 cover girls, wore Carl Jan Cruz. Fabric is pulled and twisted to fashion an inspired corset, while fabric is expertly pinned, draped to fall along the contours of her body.
"This dress took 125 hours to make. And they have this technique called pilipit, which is, like, twisted fabric—this is actually silk. They made this dress in celebration for my Paris journey, which I'm so grateful about," she explains. "It came as a surprise from the studio. They've been working on it, they just did not let me know. They basically waited for the right moment—the right time for me to wear this. So I'm just beyond grateful."
Pat Cortez & Gelai Penales
Overlay Designs founder and model Pat Cortez and artist Gelai Penales' ensembles are playfully interpolated by anthurium flowers. Cortez, who dressed in layers of white lace, lined the flowers down her tights all the way to the tips of her shoes. Penales, on the other hand, dressed in all black, styling hers as a silver choker to match the accents throughout her look.
Bretman Rock
Bretman Rock wore a gleamingly white, amorphous piece by Rajo Laurel. Abaca fabric brushes up to his shoulder like a wave of sea froth, before trailing down to an asymmetrical hem. Bretman's long-time stylist Brian Meller expands: "We were inspired by the first issue [of Vogue Philippines], the maiden issue cover—by that abaca fabric—and we wanted to do something that was incorporating Bretman's signature of pants and kind of a dress silhouette that played with masculine and feminine."
Liza Soberano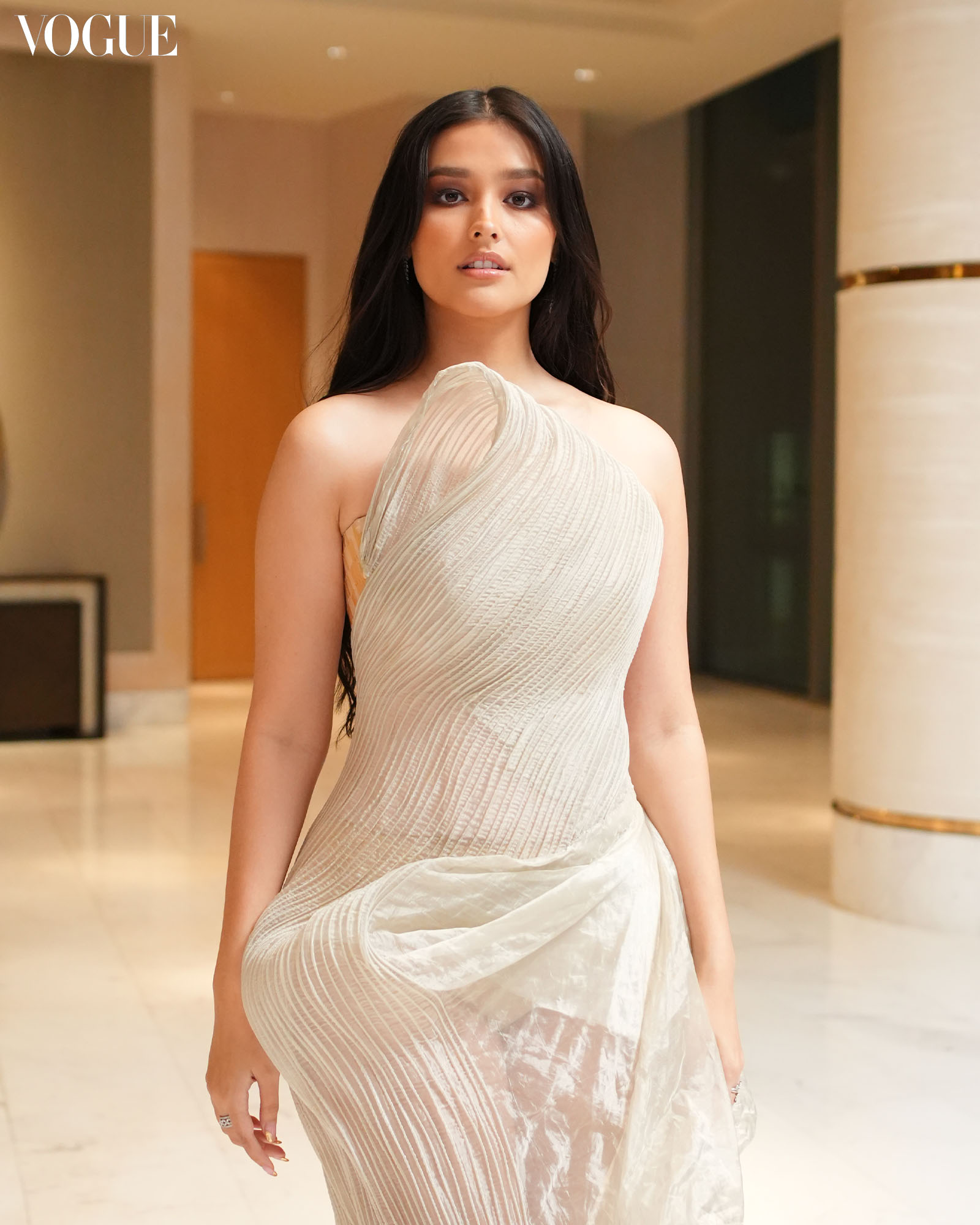 Liza Soberano's dress, also by Rajo Laurel, is straight from the archives. Equally as sculptural as Bretman's, it features fluid, delicate pleats. "It's inspired by the beauty of transformation, of like a caterpillar to a butterfly," Soberano told Vogue Philippines yesterday as she discussed the inspiration behind her look. "So my dress kind of resembles a cocoon of some sort, and that's like something I resonate with."