Kiana Valenciano has had quite the year—a milestone birthday, an engagement, a new single called Dare You. It's easy to think that the R&B and pop artist's path is written in the stars.
Daughter of Filipino pop royalty Gary Valenciano, it was only a matter of time before she found her place in the industry through her 2017 hit single Does She Know. Riding this momentum, she packed her bags and moved to Los Angeles to pursue a music career in the US.
Valenciano, however, has learned that life can have other plans. When the pandemic and her big move coincided, she saw herself retreating inwards after all her plans fell apart. Despite the setback, she produced another EP in 2021 entitled Dazed and secured the 2022 Philippine Movie Press Club Award for Female R&B Artist of the Year.
We caught up with the now 30-year-old who sat down with us and Sari-Sari Studio founder Marielle Sales to talk about the growing pains of leaving home, learning and relearning your craft, and working with your idols.
---
Tell us about Dare You. What's the sound like for this new song?
It draws from my hesitation a few years ago to embrace love while I was navigating a critical point in both my career and womanhood. As I approached 30, I thought leaving my 20s would be like a death sentence. However, it has proven to be the total opposite. As I look back, I'm hyper-aware of the things I should've done differently, but I'm equally conscious of how those decisions have guided me to where I am today. I'm so grateful for the memories I made and continue to create. Now, new chapters excite me more than they intimidate me. I understand myself better than ever, and I want to celebrate that! Unlike my previous EP, which explored my uncertainty and mixed emotions, in this new era I just want to have some fun. I'm in a good place and I want to share that.
What was it like working on it?
I co-wrote Dare You with Rose Tan and producers De'La and Rob Tirea. I never laugh more than when I'm with that crew. Outside of the studio though, I also enjoy exploring the visual aspect of my music. The videos I've been sharing on my social media were actually shot in my bedroom one night. I had set up the camera on a tripod on my bed, with my projector and laptop on a little breakfast tray. Whenever I see static on a TV screen, it makes me feel like I have to be patient or that something exciting is brewing close by. I projected that sentiment onto myself.
As for the inspiration behind the cover art, I leaned into my love for collages and paper dolls. My fiancé assisted me, as he always does.
Also, congratulations on your recent engagement. How did you react to the moment?
Thank you! I was completely caught off guard. Both [Sandro] and I have always been aware of our goals, and while I had an inkling of when he might possibly propose, his actual proposal left me in complete shock. I was battling a bad hair day, juggling work stress, and my mind was racing in a hundred different directions. However, he showed an extraordinary understanding of me by keeping it simple and spontaneous. He even made sure that my parents, my older brother, and sister-in-law would be available to join us that day. Not only that, but he also planned a small party afterward with his family and mine, and some of my best friends to celebrate. The blend of surprise, excitement, and joy came together to create the perfect evening.
Aside from all this big news, how's life lately?
I turned 30 and I'm coming to terms with having to let things go, not because of my age but because I've outgrown them. I can't just hold on to those things out of habit or out of comfort. It's challenging but fulfilling because I can see myself changing.
I saw this interview of Janelle Monae where she talks about changing and how most people would like to change "back" into a sexier body or younger, crazier versions of ourselves when we can also just live in the now.
I love her! And we're already in the past, if you really wanna be crazy about it. 10 years from now, I'm going to wish I'm in this place right now. And really, 10 years from now, I'll be like, I should have paid more attention. If I keep looking behind me, I'll be missing out on what I have in front of me.
Even with what you said about bodies, when I was 19, I wished I had my 15-year-old body. When I was 25, I wished I had my 19-year-old body. Lately I've been going to this Korean spa and you know how they work, right? You're stripped. You're in your most vulnerable state [and] being surrounded by all these women, I can stare at the mirror and be like, wow, I'm part of this, I'm one of them. It was the first time I think I ever had an experience where I saw all my curves and rolls and I was like, yeah, that's me. That was also a point of clarity during our [photo] shoot.
When we were looking at the pictures from the shoot, you said "Oh wow, I look like my mom." Did you ever imagine yourself growing up to be your parents?
Naturally as kids, we always rebel and try to be the opposite of our parents. It's only now because I'm so far away from them that I find myself following in their footsteps.
There are certain ways [it manifests,] like you guys keep saying [my apartment] feels homey. That's how my mom always wanted the house, to make sure that you host people and when they come over, they feel like they can relax and they can just breathe. Or the way I'm hypercritical of my art is so much from my dad. But when I was younger, I would look at him and be confused. I just didn't understand why he was overthinking everything. Now, I get it. You care about your work.
It's been three years since you moved to Los Angeles. How's the music scene like for you here?
The music scene in LA is incredibly diverse. I've been so blessed to have the opportunity to join different songwriting camps where I've been exposed to an abundance of talent, diverse creative processes, and seasoned professionals who inspire me to continue pushing forward and upward. One day, we could be writing a pop anthem, and the next, an indie acoustic love song. Then we might find ourselves hopping into a crowded Uber to make our way to an evening hip-hop showcase. You never know whom you're going to meet or which experiences will influence a new project.
How did you find your people in Los Angeles?
I've met and expanded my circle with the help of the Filipino community in LA. At every event, party and camp that I've attended, I've encountered the most talented Filipino creatives who are dedicated to uplifting one another and opening doors for each other. Starting from scratch is terrifying. It involves a bit of trial and error and pushing past my comfort zone, but the rewards of having a circle of friends and collaborators whom I trust outweigh all the fear and initial hesitation. I can confidently say that I have truly discovered my identity through the journey of rebuilding.
You recently went to the New Normal Writing Camp, which supports underrepresented songwriters. What was that like?
This one was different because I also came in as a songwriter, not as the artist in the room. I did not have full control over where the song would go. I was more like a vessel. I was helping this artist tell their story. It was such a beautiful experience.
I was able to write for an artist who I've looked up to for so many years. This is someone that I would listen to on headphones on my way home from either work or from class. There are certain experiences or certain events that we all go through that reassure you that you're on the right track and I would say this is one of them.
Would you say this would have been the perfect time for the perfect version of you to have met this artist?
I had already met this person in the past and actually even performed with them by chance. But had this [opportunity] happened even just six months ago, I would not have been able to process it. I would have responded with fear and maybe I would have let my fear run through what was happening in the studio instead of me coming in and being able to present my ideas and my thought process behind certain choices and all these things. So this is crazy. Growing up is so much fun.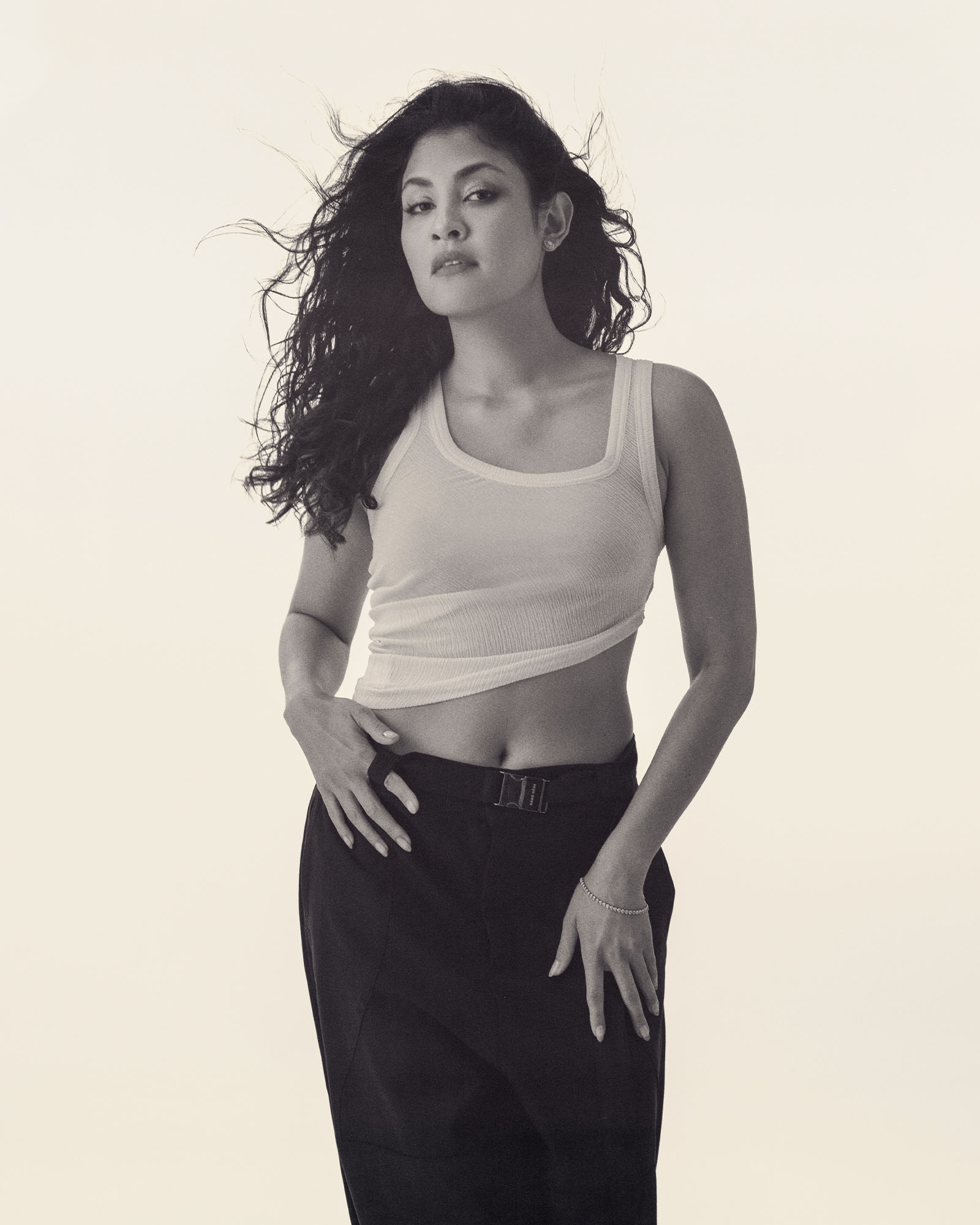 You have a song called I Want To Be Here which talks about balance. Do you value rest and nature and wandering?
I grew up in the Philippines… There were lots of trees and I went to a high school in the mountains. I guess you could say I may have taken that for granted because then when I moved out of home and lived in the city and experienced different cities, there was a different side of me that now recognizes being in nature and spending a lot of my time by the ocean puts things into focus. I am able to leave myself and really see [certain things are] not that big of a deal. It's not that deep, it's not that deep.
What makes you happy these days?
Family. I love where I am now at this point and I've been here a while. I have my community. When I'm able to be in a room with people that I trust and we can be open and just talk about the world and then come together and put our ideas into music, that makes me so happy.
Do you feel like you've made it?
There are different versions of "making it." Singing Does She Know and hearing the crowd sing back to me? That was a public declaration of, "Oh my God, I made it." But then there's Dazed, my EP which didn't get as much recognition. It was my first time in the studio where I really spoke out about exactly why I wanted it to sound this way, or why this decision would do better for the story, or why the songs are arranged in that manner. I was independent. The impact of that was on a more private scale. I poured so much of myself into that project and I saw it through.
What's the next era like for you as an artist?
I'm embracing the change. I am embracing my past and all the things that I thought I hated about growing up. And maybe I was delusional in the past where I thought I was living more than one life and that I would be able to change these decisions in the future. But this next era and this next project is about confronting the fact that we really do have one life and every day is a chance to make it the best day ever. It's very nostalgic. You're gonna wish [you're listening to it] on a cassette.
Creative Producer/BTS: Marielle Sales of Sari-Sari Studio. Art Director/Writer: Martin Diegor. Photographer: Red Gaskell. Stylist: Rap Sarmiento. Makeup: Celestine Pearl. Nails: Marielle Loreto. Stylist Assistant: Dianna Dy. Photo Assistant/BTS: Green Gaskell. Lighting: Michael Camacho. Video + Location: RG Studios.