In response to the black and white theme at the Vogue Philippines Anniversary Gala, some guests paid homage to the country's heritage by wearing traditional Filipino dress elements.
From unique takes on the barong, the terno and the baro't saya, to prints that embody national symbols, here's a look at the different ways some of our guests interpreted the theme of "Refresh & Rewear" while showcasing Philippine pride.
Gabbie Sarenas
Fashion designer Gabbie Sarenas was spotted wearing an outer dress made of piña silk with sampaguita (Arabian jasmine) embroidery and scalloped detailing. According to Sarenas, "It's a reversed version of the original tie-back, so I made it like a bell sleeve cape."
She complemented this with a black inner dress from COS and accessories from local jewelers such as Pranca and Natalya Lagdameo of NLAGDAMEO.
Shaira Luna
Photographer Shaira Luna brought out her lens and captured moments from the night while wearing a vintage Ino Curata gown that she found at The Little Vintage Shop. She paired this with a custom vintage lace tapis by Glorious Dias who is known for reworked pieces that showcase different aspects of Philippine culture.
Marshawn Lynch
The NFL running back Marshawn Lynch was dressed by fashion designer Puey Quiñones who opted to dress him in piña (fiber made from pineapple leaves), which the football player was fascinated by. "He's very curious about the material and we also talked about the difference between a calado and a piña suksok (embroidery styles often used for a barong)," the designer said.
In designing Marshawn's barong, Quiñones considered his client's personal style—inspired by the hip-hop scene—and their design process was collaborative. He wanted to make a gala look that would reflect elements from both his and Marshawn's personality. The NFL star's only requests: Marshawn wanted to go for an all-white look, and specifically requested for gold buttons.
Toff de Venecia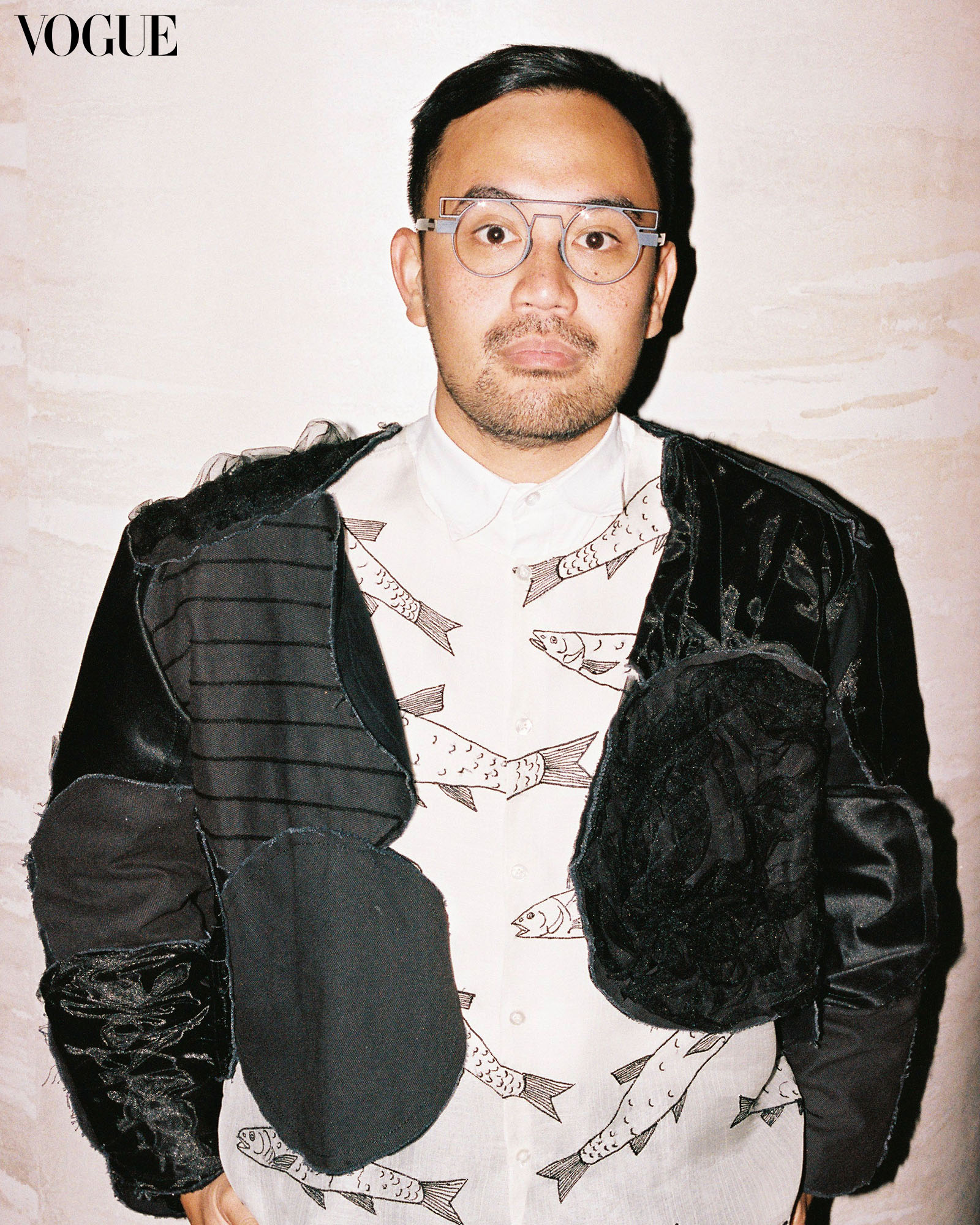 Congressman and Theater Director Toff de Venecia graced the event with a bangus (milkfish) printed long sleeve made by Kelvin Morales. He previously wore this to Vogue's first mystery dinner and decided to wear it again for the gala to promote the bangus—the prominent fish crop and product of Dagupan City, which is within his congressional district.
He paired this with a jacket and pants set made by ḢA.MÜ who pieced it together using retaso (scrap fabrics).