Stylist Brian Meller looks back on a bustling young career and tells us about his love for award shows, the lengths he went to for his first internship, and what it's like working with Bretman Rock.
There are buckets and buckets strewn all over Brian Meller's apartment floor. Their contents? Red carnations, purple anemones, and white veronicas—excess blooms that didn't make it to the final bouquets he prepared for that day's Wales Bonner private archive sale. He takes my call at 10 PM in New York, just having arrived home from making the delivery and running errands. "I have all the energy for you, though," the stylist playfully assures me, "I'm tired after this call is over."
When I ask about the provenance of his love for flowers, he confesses that it was subconsciously inherited from his grandmothers, who always had fresh flowers on the table, and who both loved clothing. "I've always liked home ec things like I love cooking, I love setting the table, I love flowers, but I think that all goes under the umbrella of aesthetics or creative direction, which I think is what I like in general… I think styling goes under interior design like all of those things."
Growing up in Fort Lauderdale, Florida, Brian was surrounded by a mellow creative and fashion scene. Without artistic inspiration in tangible proximity, he grew mesmerized by award shows he would watch on television with his whole family. He started following Taylor Swift's red carpet appearances, collecting viewings of her at the VMAs as his earliest award show memories.
However, Lupita Nyong'o's 2014 looks washed over him like a tidal wave, pushing his career in motion. "I was just so obsessed with this idea that this actress came to awards season and made a name for herself because of how amazing she was in the movie, but we all remembered her also because of the clothing she was wearing," he shares. He vividly recalls the actress making her red carpet entrance at the Academy Awards in a plunging blue Prada dress with a sweeping train and at the Golden Globes in a columnar red Ralph Lauren frock with an off-shoulder cape.
Later on, Brian's mom stumbled upon a People magazine feature of Lupita's stylist, Micaela Erlanger, who turned out to be the classmate of his grandmother's friend's granddaughter. He smiles when he says, "It was like the weirdest connection. I think that was the moment that really introduced me to what styling was. It was the fact that someone was behind all of those looks." When Brian followed Micaela on Instagram, she had just posted a call for interns in New York. Seventeen at the time, he decided to move up the coast to work with her, thrusting himself into the whirlwind fashion industry like the star of a classic romantic comedy.
As he revisits the tale of the interview process, he cheekily reveals that he lied about receiving full academic credits in exchange for the internship. In truth, he was only about to enroll as a freshman in New York University's Media, Culture, and Communications program. "I take full responsibility, and I'm glad I did it, and I'd do it again," Brian says with a laugh, "because it's what taught me everything I know."
Brian worked his way up from an intern to an assistant, a role he held for a year until 2018, after which he became a freelance styling assistant. On Micaela's team, he assisted in styling Hollywood stars like Meryl Streep, Constance Wu, Diane Kruger, and, in a full-circle moment, Lupita Nyong'o. Then, a year later, at 21, at the height of the pandemic and as he was wrapping up his time in university, he decided it was time to venture out on his own.
Flying Solo
As a full-time stylist, his first client was actress Salena Qureshi, whom he reached out to on Instagram. For Kate Spade's spring-summer 2020 showcase, he dressed her in a printed babydoll dress layered atop a Victorian blouse, a look that made Emma Roberts swoon. "[She] came up to us and was like, 'Oh my gosh, she looks so cute. I wish I wore this!' I remember I was like, dying inside," he recounts.
Thanks to a stream of referrals by friends and previous clients, Brian now styles a mainstay clientele that includes actress Lea Michele, TikTok star Blake Gray, actor Andrew Barth Feldman, and internet phenomenon Bretman Rock, who fronts Vogue Philippines' June 2023 issue.
Brian and Bretman met through a member of the latter's team, after which they put together a couple of casual street-style looks for parties and content shoots during Bretman's jaunt in New York. One of those was a full Peter Do ensemble, consisting of a low-slung white tank top, distressed two-tone jeans, and longline reflective-lapeled blazer that, when photographed by the paparazzi, immediately went viral. Brian narrates, "That to me is one of my favorite things I have ever done, and I always think it will be because it was such a big moment for me." It marked Bretman's debut in the high fashion circuit and the beginning of synergistic collaboration.
After two years of working together, Brian and Bretman's relationship has evolved into friendship, and they're constantly tapped into one another, whether professionally or personally. On their trip to Manila for Bretman's book tour and cover shoot, they serendipitously packed a vintage Jean Paul Gaultier set without planning to. While out at vintage boutique What Goes Around Comes Around, the stylist pulled out a JPG top that he knew Bretman already owned the matching bottoms too. He decided to pack it for the trip without telling him. "When I got to the Philippines and showed it to [Bretman], he had already packed the bottom. He was also thinking, 'This bottom is perfect for the Philippines.' We always laugh. It's like we just are always thinking the same thing."
Brian explains their styling principles: "The most important thing is really honoring those brands that supported us since the beginning, that saw the vision without all the explanation." This roster includes Peter Do, Robert Wun, and Balmain, who all said yes to loaning clothes to the tandem when others were turning them down. The duo takes pride in "pushing the boundary of what someone who is born male can wear" by pulling clothes from both men's and women's racks and interspersing these contemporaries with vintage and archival finds. They're no longer as referential as they used to be; they've arrived at a point where their focus is Bretman's emerging personal style. "He's so versatile in everything he does, and that's why he's so fun to work with as a client," Brian says of the internet star. "Anything under the sun could work."
And he's not wrong. For the cover shoot, Bretman was clad in a myriad of textures from Chopova Lowena's psychedelic florals to Joey Samson's rosette award ribbons, to Melitta Baumeister's sculptural neon jersey and Ditta Sandico's handwoven abaca and polycotton yarns, envisioned in the studio and under the Siquijor sun.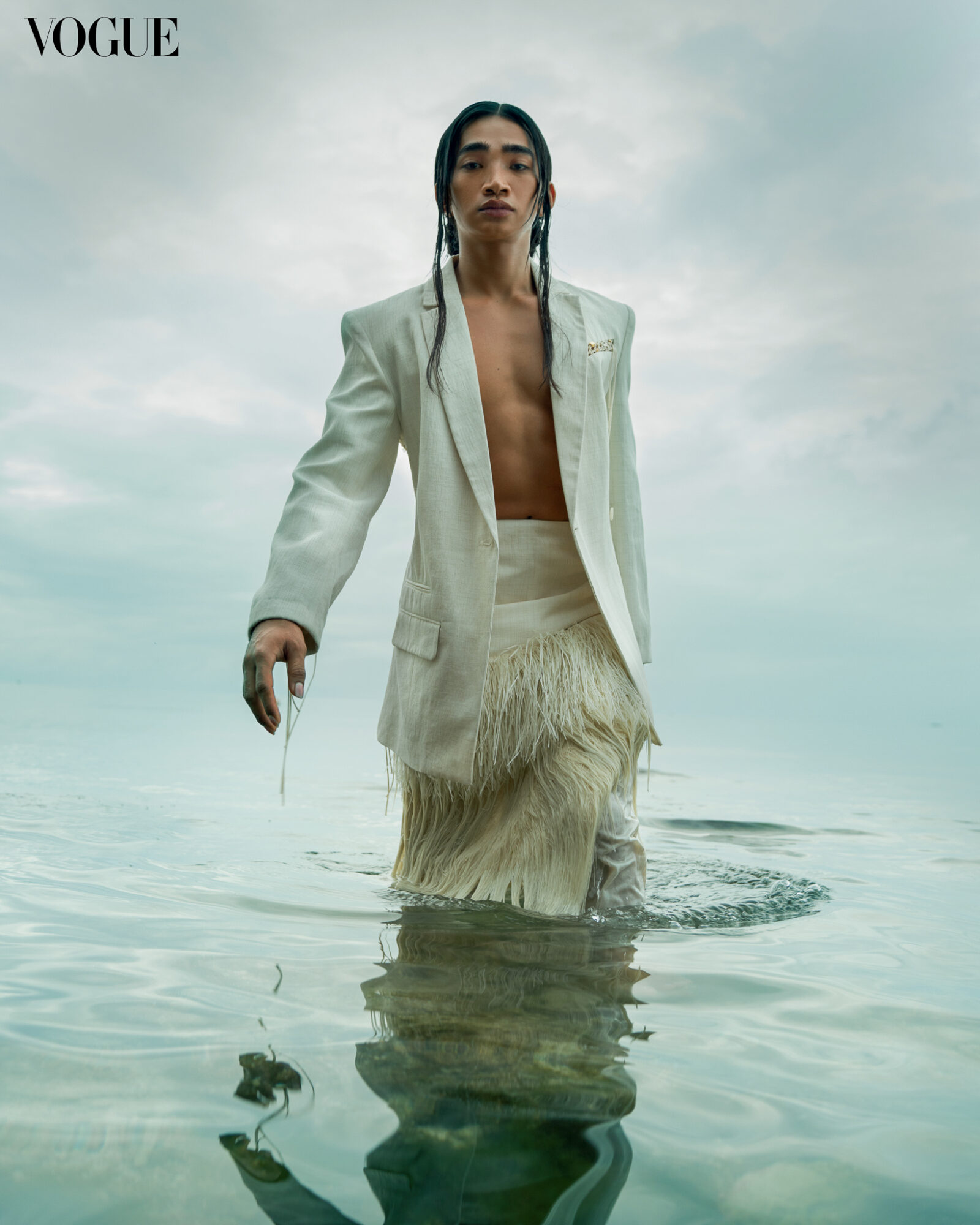 Forward Facing
Speaking of the Vogue cover shoot, the stylist happily admits that it "came way sooner than we thought." It was always the goal of the team, and they're grateful that it manifested at an early point in their careers.
Not that it was entirely unexpected. Since going solo, Brian has been working nonstop, always focused on the next big thing, like styling someone for the Met Gala or styling his first Vogue cover. Merely halfway through the year, he's already achieved both.
These feats come on the heels of stylist Law Roach's abrupt retirement from celebrity styling, prompting Brian to ruminate on what the future looks like for a young stylist like him, who already relates to the veteran's sentiments of burnout.
He comes to a realization as we near the end of our call. "I don't need to top everything. Not everything needs to be bigger. I think that moving forward, it's just appreciating what I've done." He goes on, releasing what sounds like a string of mantras: "I don't need to rush anything. I have time to do all the things that I want to do, hopefully. So I'm just waiting for them to happen at the right time instead of trying to force it at the wrong time."
At that, Brian leans back in his seat, waiting for the next question. Then there's an undercurrent of swagger to him, like someone who just remembered that they have something to look forward to. He settles into a renewed excitement for what the horizon holds, whatever that may be, and he doesn't have to say it. His expectant eyes and small smile do it for him.
Vogue Philippines: June 2023 Issue
Photographs by Regine David, Fashion Director Pam Quiñones, Styling by Brian Meller, Makeup: Anthea Bueno, Robbie Pinera. Hair: Mong Amado. Art Director: Jann Pascua. Production Design: Justine Arcega-Bumanlag. Producer: Anz Hizon. Movement Director: Madge Reyes. Production Assistants: Bianca Zaragoza, Patricia Co, Pilar Recto. Photographer's Assistants: Choi Narciso, David Ong, Sela Gonzales. Stylist's Assistants: Anna Huger, Renee De Guzman, Ticia Almazan, Adam Pereyra, Neil De Guzman. Production Designer Assistants: Geber Cunanan, Jan Abal, John Amon, Jonel Navarro, Olderico Bondoc. Shot on location at the Province of Siquijor and Coco Grove Beach Resort. Special thanks to Dru Sansenbach, Gov. Jake Villa, and Siquijor Tourism