The brand-new collection lets you carry a piece of Yayoi Kusama's fantastical polka-dotted world on your arm.
Avant-garde Japanese artist Yayoi Kusama, who rose to fame with her kaleidoscopic surrealist artworks, is returning with another collection for luxury fashion house Louis Vuitton, 10 years after her first collaboration with the brand.
Headed by then-creative director Marc Jacobs, Kusama's first LV release coincided with a retrospective exhibit at the Whitey Museum of American Art in New York with the theme "Love Forever." The evening gathered the likes of Diane Kruger, Waris Ahluwalia, and Sofia Copolla to celebrate the acclaimed visionary artist.
The collection was heralded as the house's most significant collaboration with an artist since the Steven Sprouse collection 11 years prior, in 2001. The pieces included polka-dotted ensembles with matching accessories like bags, shoes, bangles, and scarves.
A Brand New Invitation
The 93-year-old phenomenon has become an emblem of her own art, with her distinct style and signature blunt red bob. Her work is often tied to her inner psyche and childhood trauma. At a young age, Kusama began to experience vivid hallucinations, which included dense fields of dots and other patterns that would grow to engulf her.
These motifs have come to permeate and define the artist's style, which is often regarded as a precursor to Pop and Minimal art. Her exhibitions often feature rooms filled with objects painted with endless dots and mirrors to invite visitors to shed their ego and bathe "in the infinite everything."
Her signature patterns make their way into her 10th anniversary Louis Vuitton collection this 2022. The Kusama dots feature on Louis Vuitton's signature silhouettes, like the Alma BB or the OnTheGo MM, giving new life to the handmade classics while allowing wearers a piece of Kusama's surreal universe.
The latest drop quickly became the talk of the town after a limited teaser release of several of the Kusama x LV leather goods during artistic director of Women's Collections Nicolas Ghesquière's Cruise 2023 fashion show. Fans of the collaboration quickly snapped up first releases, which included the likes of Queen Rania Al Abdullah, the Queen Consort of Jordan, who wore the black dotted Capucines MM to a visit at the Quirinale Palace in Rome.
The Collection
According to Louis Vuitton's press release, this new incarnation starts where the previous collection leaves off. The pieces themselves are a reflection of Yayoi's famous installations; cascading patterns, mirror elements, and an apotheosis of handmade craftsmanship tie together both artist and house.
The first motif is, of course, Kusama's hand-painted dots. These find their way onto the leather goods, such as the Capucines and Dauphine bags, as well as the enduring Hard-sided luggage and canvas bags. These transcend into the Infinity Dots; Kusama's most familiar element. She has often referred to herself as "obsessional," with her Infinity Dots signifying a state of "self-obliteration," serving as her measure of the unbounded universe.
Next come the metal dots, which originate in her 1966 exhibition, Narcissus Garden. Black and silver leather bags feature the metallic element, alongside the likes of the Soft Side Trunk and Cannes Bag. The last, are her Florals. The psychedelic blossoms she paints lend an ephemeral contrast to her work. Her exotic flowers find their way on bags like the women's Capucines, and men's Taurillon Monogram Bum Bag, Sac Plaat, and Keepall.
Ahead of the full launch in January 2023, see the bags you can shop from the Yayoi Kusama x Louis Vuitton collection:
Courtesy of Louis Vuitton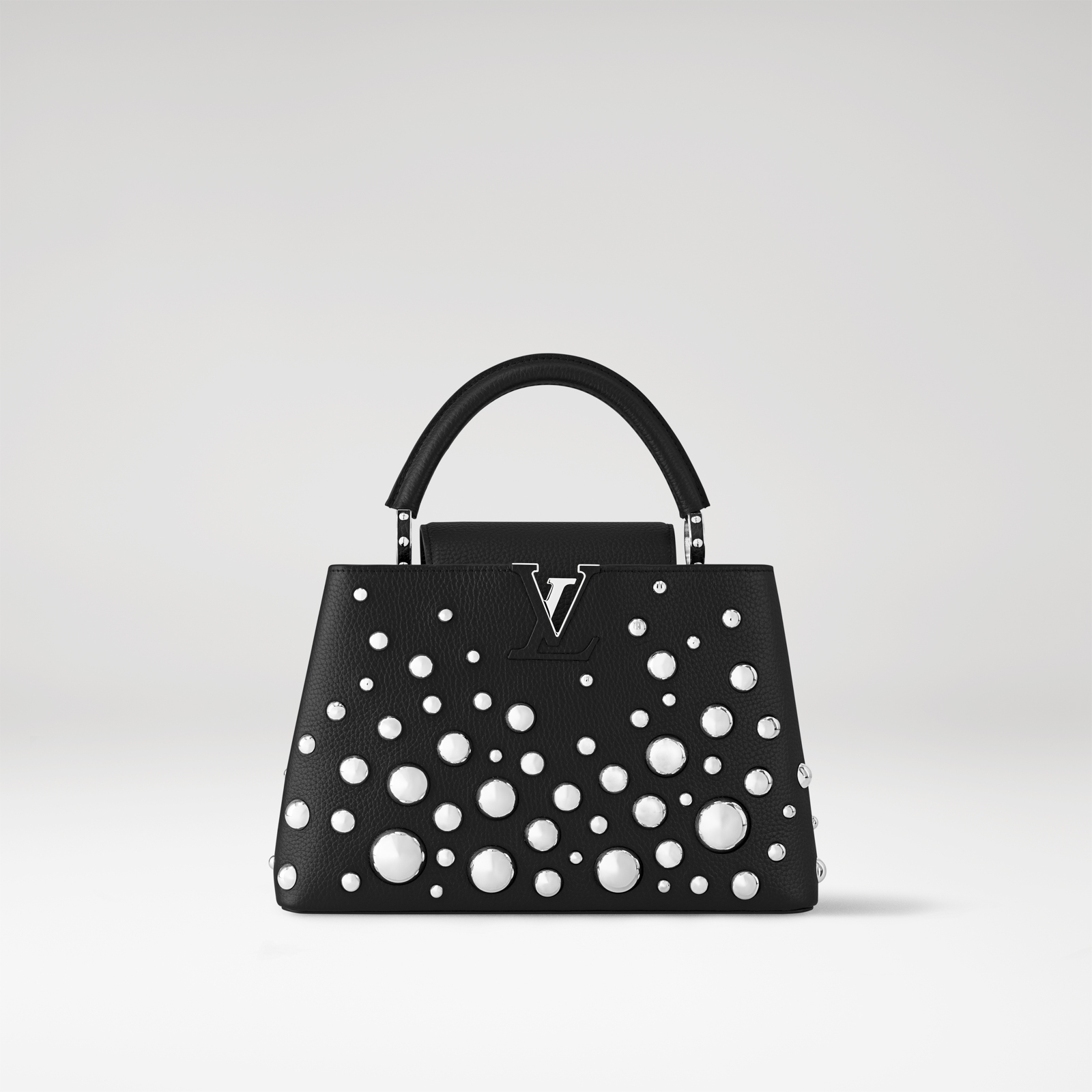 Courtesy of Louis Vuitton
Courtesy of Louis Vuitton