When we talk about Mexico in 2023, what—and who—do we talk about? The answer to that question is embedded in a dense web of influences and talent, weaving together the worlds of fashion, visual art, architecture, film, gastronomy, and music. The precis, however, is that modern Mexico is thrilling and thriving.
Architect Frida Escobedo—honored with the 2024 Prix Charlotte Perriand by the Créateurs Design Association & Awards—comes to mind: Not long ago, it was announced that she would be the first woman to design a wing of New York's Metropolitan Museum of Art. And then there's someone like Renata Petersen, a young woman from the state of Jalisco, who in her artworks merges contemporary debates around gender roles and sexuality with age-old artisanal techniques. You may know her name from a recent collaboration with Celine, but Petersen has much more in the offing; at the moment, she is hard at work preparing two new exhibitions. "For me, Mexico is my home, it's my refuge, it has inspired me in different ways," she says.
Turn your attention to the movie business, and you'll find that Mexican actors are doing some extraordinary work right now—to say nothing of filmmakers like Alejandro González Iñárritu, Alfonso Cuarón, and Guillermo del Toro, giants all. Take Manuel García-Rulfo, whose recent projects include Netflix's The Lincoln Lawyer and a forthcoming adaptation of Juan Rulfo's 1955 novel Pedro Páramo. Diego Calva, Dario Yazbek Bernal, and Mabel Cadena are other examples, the latter of whom left Mexico to play Namora in 2022's Black Panther: Wakanda Forever. "All that I sacrificed was transformed into something amazing," she says of the experience.
And what's a discussion of modern Mexican culture without nods to its food and music? Elena Reygadas, of the sensational restaurant Rosetta, in Mexico City's Roma neighborhood, was recently named the greatest female chef in the world; while regional Mexican music is reaching a wider (and younger) audience these days, with Yahritza y Su Esencia—a band of three siblings from Yakima, Washington—emerging as some of its greatest advocates.
Others have left their mark on fashion: Model Tindi Mar, a native of Guadalajara, made her runway debut at Louis Vuitton in 2021 before walking for Dior, Missoni, and Alexandre Vauthier. She once told Vogue that no matter where she goes, she always carries a piece of Mexico with her, whether a handmade garment inherited from her mother or a cherished necklace. She is joined in this portfolio by Celeste Lopez-Romero—a favorite of Ferragamo, Chloé, Gabriela Hearst, and Jason Wu—and a newer face, Aneken Saldivar, who has walked for Bottega Veneta and, in May, appeared in Dior's resort 2024 show at the Colegio de San Ildefonso.
Vast as Mexico is, the thread connecting all of these people and their stories is the nation's iconic capital. En la ciudad, one can visit Mexico's holiest site, the Basilica of Guadalupe, or marvel at the Museo Anahuacalli, a temple for ancient Mesoamerican art established by Diego Rivera. Venture a little further afield, and one finds Xochimilco, where colorfully decorated boats, or trajineras, make their way through the chinampas system of floating gardens, cultivated with flowers and vegetables since the days of the Aztecs. Mexico City, it's clear, is a place not burdened by its rich sense of history, but ennobled by it.
Below, we invite you to see the city through the lens of two native sons: Vogue contributing editor Max Ortega and Oscar-winning cinematographer Emmanuel "Chivo" Lubezki, known for his work with Cuarón (Children of Men, Gravity) and Iñárritu (Birdman, The Revenant), as well as Terrence Malick, Mike Nichols, and more. For all the ways that CDMX has changed since they left it (after high school for Ortega and after college for Lubezki), it has also remained just the same in all the ways that count: a beautiful work in progress, teeming and textured and alive. Vamos.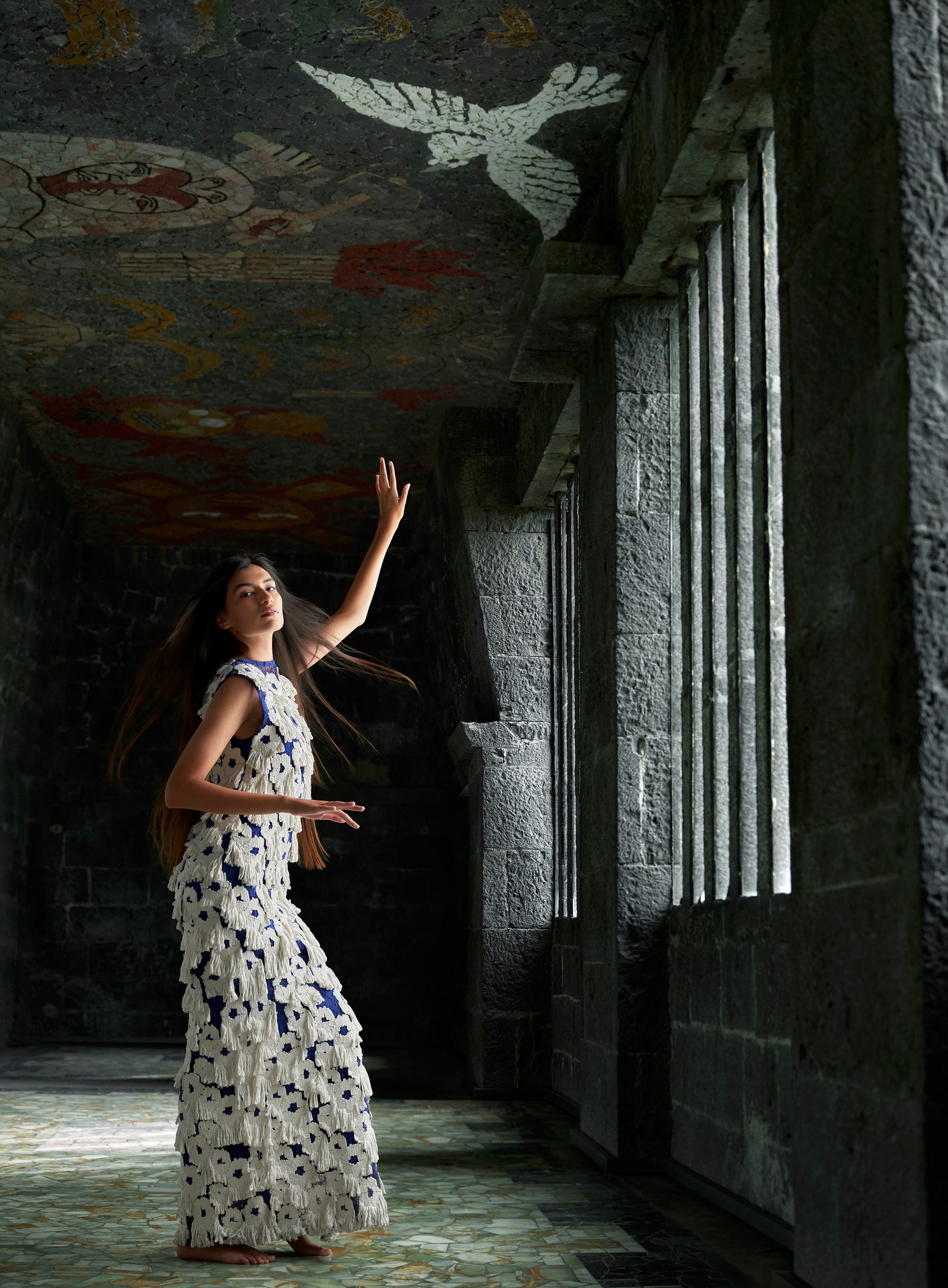 Photography by Emmanuel "Chivo" Lubezki, Styled by Max Ortega
In this story: hair, Joey George; makeup, Ana Gutiérrez de Velazco. Produced by Gustavo Midence for The Lift and Park Pictures. Set Design: Nicole Sagues.
This article was originally published on Vogue.com