Curious as to what the cool kids are wearing?
The age of the cool kid is here and we're all here for it. On-the-rise brands have shed light on a new fashion frontier with fashionphiles anticipating fresh drops, signing up to never-ending waitlists, and staying loyal to these stylish superpowers. There are a number of international brands that have garnered a cult following worldwide. This buzzy roster includes Solange-approved Phlemuns, joy-inducing brand Marshall Columbia, quirky label Ganni, knitwear favorite Rua Carlota, and ready-to-wear Cult Gaia, to name a few.
Here in the Philippines, we have our own lineup of brands that have cultivated their own fandom. Effortlessly cool and famously blasé, these labels have gained a secret cult following within the youth and fashion communities alike. From Halo-Halo's sold-out bags to Toqa's high-cut swimsuits, we're giving you a glimpse into the breakthrough brands that have caused quite a stir in the local scene.
Ma Collecta
Ma Collecta's intentional piña collections comprise reinterpreted forward-thinking designs made for the modern Filipino. Their most recent collection Hardin was a new take on the designer's previous collections with floral piña embroidery. This blooming limited capsule sold out in an hour. The first to go were the orchid-imbued bucket hats that went out of stock within the first few minutes. The signature Pañuelo Tubes withWaling–waling variations sold out next and the larger-scale orchids followed suit. Only five pieces per style were released, including a one-of-a-kind asymmetrical floral-embroidered style. Rumor has it that the website glitched because of the sheer amount of people visiting the site at once.
Available here.
---
TOQA
Tropical made-to-order brand Toqa brings the vacation to you with their mood-boosting and vibrant prints. The brand is known for sheer barely-there slip dresses, Champorado onesies, high-cut metallic swimsuits, and moto pants with utilitarian details. The label's loyal followers referred to as "Toqa girls" were no small feat even throughout the pandemic with their printed masks popping up on social media feeds in an array of different styles and variations (even worn as tops, thongs, you name it).
Available here.
---
JOS mundo
JOS mundo has created their own fashion-forward community of girls-about-town. Keeping sustainability in mind, each pair of shoes uses Filipino deadstock materials from Marikina and highlights special textures and crafts. Always merging new-age styles and traditional craftsmanship, JOS mundo's Fettuccine Platforms merit a place on the roster of It-girl staples. Found in candy-colored hues with a lightly-padded footbed, this Noughties-era piece brings a wave of nostalgia.
Available here.
---
Halo-Halo
Cult-worthy brand Halo-Halo goes beyond homeware and bags with their clothing line—GoodTimes. With summery silhouettes in mood-boosting colors, the label's following has grown exponentially because of their beachy, vacation-ready ensembles. Not only that, but the brand's bags are known to sell out in a matter of minutes. At fairs like Artefino pre-pandemic, the label was known to schedule drops for different colorways at their booth. Avid fans would line up for the much-anticipated limited release (which they were aware would sell out instantly). With designs reminiscent of intricate banigs and accessories made from woven recycled materials, this accent piece has become a coveted staple in one's summer wardrobe and beyond.
You can find their clothes here and their bags here.
Gabbie Sarenas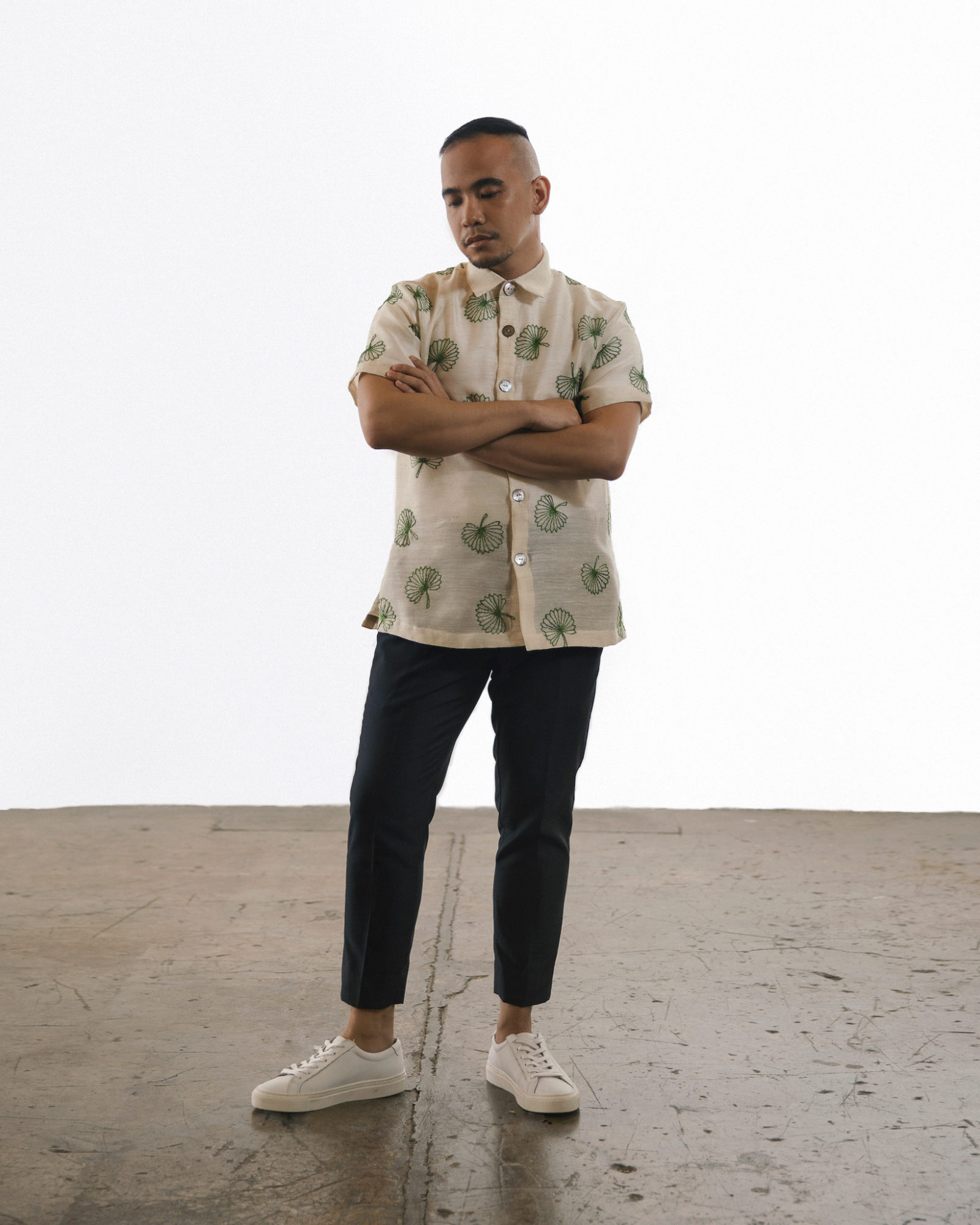 Gabbie Sarenas is known for her quirky Raul evening barongs with hand-embroidered elements and her Hindrika Bouquet Aprons with substantial flowers and an oversized piña shifu ribbon. Her collections are rooted in Filipino heritage, with a spotlight on local craftsmanship. Each garment is one-of-a-kind in different variations with a myriad of intricate flora and fauna. Fruit gardens, sea creatures, roses, sampaguitas, tamales, and many more eccentric designs run rampant throughout the designer's collections. Not only that, but the Gabbie Sarenas "Binibinis and Ginoos" are given the opportunity to put their own spin on the celebrated piña pieces, each with their own unique bespoke touch.
Available here.
Kelvin Morales
Kelvin Morales' take on the Barong Tagalog made waves that reverberated throughout the fashion community. The young designer has a distinct perspective on how to truly encapsulate Filipino heritage (while adapting to the times). Doodles decorate barongs, embroidered Phalaenopsis patchworks embellish denim jeans, and dresses are strung together in grids with colorful hair swatches in a contemporary approach to fashion that is utterly thrilling. Not only that, but his delicate Hypnos Cape is currently being displayed at art gallery 1335 Mabini as a work of art. Kelvin Morales' style affirming energy earns its place among the home turf favorites.
Available here.