Bridalwear is invigorated with a new sense of grandness from Visayan creatives
Twenty-five Cebuano fashion designers released their latest bridal collections during Gugma—Weddings at Waterfront, the biggest Cebu wedding expo after two years of isolation—emerging ever so carefully into the spotlight. For the Visayan locals, the fashion has never been this invigorating, too: They are rendering a new kind of sophistication with flowers and flounces.
The question of volume and pleats hovered over most endeavors at the Grand Ballroom of Waterfront Hotel and Casino last September 24. For the opening, designer Cary Santiago, who also co-produced the event, sculpted out a distinctly modern vision of the pantsuit and draped soft layers of pleats to the neckline that continued all the way to the back as a floor-sweeping cape. Harley Ruedas and Mel Maria, on the other hand, both brought back another classic. Ruedas designed a tiered pleated peplum, twinning with the overextended sleeves of the bouffant gown while Maria kept the lines sleek.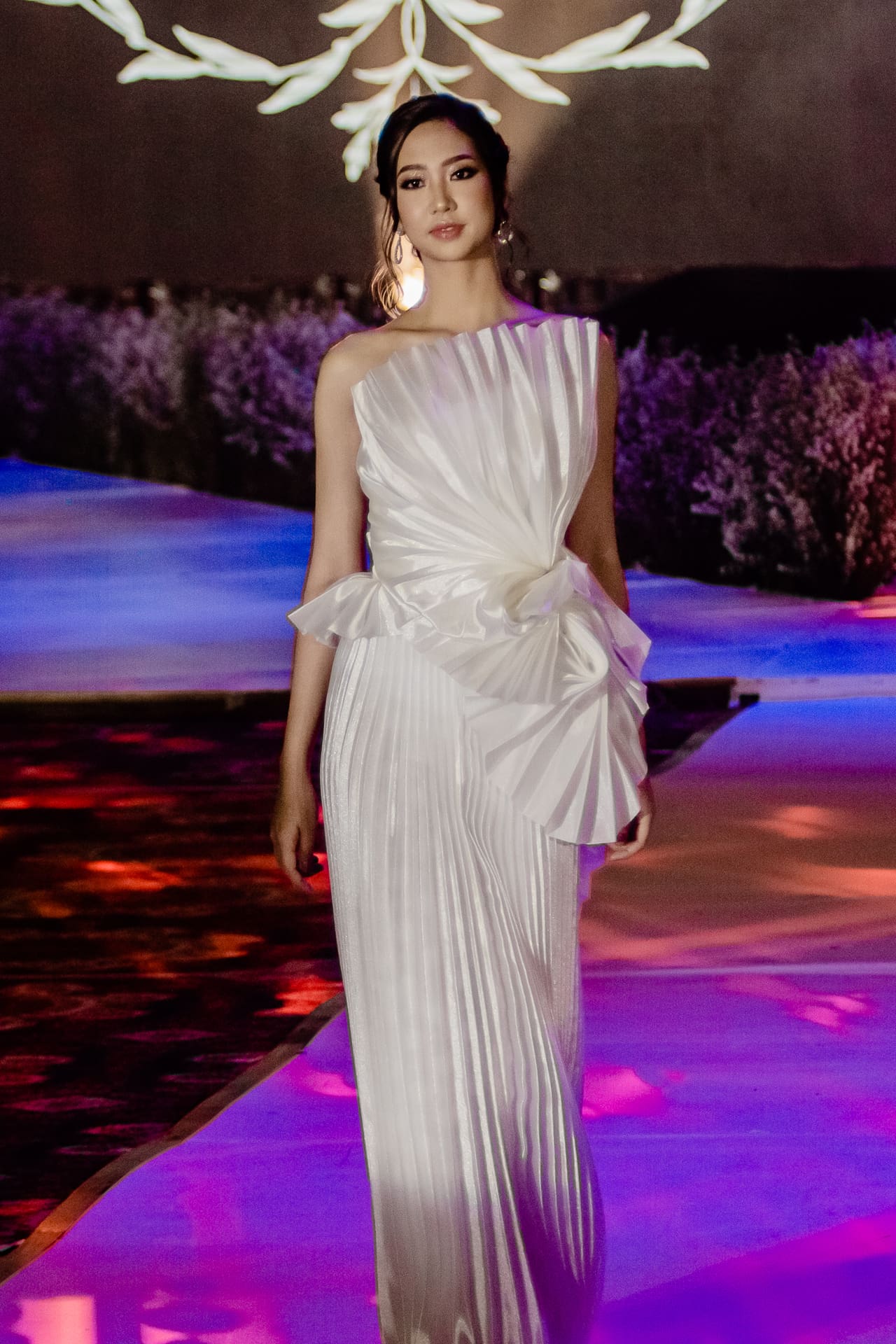 "The silhouette is classic because my collection is inspired by the words I often hear in a marriage vow—devotion, love, commitment," said Maria, who entitled the entire collection as "Voeux D' Amour" or vows of love. The column dress he made had a subtle A-line that hang away from the body just enough to actually narrow one's profile.
Marichu Tan went the opposite direction with the choice of cut: the serpentine and (even tighter) the trumpet. Inspired by the Japanese fan she saw on her recent trip to Hokkaido, she went all out with electric pleats using organdy and three-dimensional lace.
Abello Couture lead designer Arnu Poe Camay also has his fellow designers' unforced elegance in concept when he explained that his runway dresses have the right feminine allure. "In super biased beaded lace," he described, revealing that the approach is not new for him who used to work at Michael Cinco's atelier for almost a decade in Dubai.
One of the crowd's favorite ensembles of the night—those sensual interludes why we love designers who push boundaries—comes in the form of Protacio's decision to meet classic menswear with classic women's wear. To him, it's not about androgyny but dichotomy. "How far can a man go with his feminine side without losing his masculinity?" Protacio raised the question, styling the model groom with strands of pearls and a fan in hand.
The barong Protacio presented had a unique print of St. Michael the Archangel, escorting the bride model in a dome-shaped silk cocoon skirt, embroidered with floral patterns by local artisans. "I am inspired by the falling flowers on the ground still showcasing their beauty despite the fact that they are about to wither. It's romantic and poetic to me at the same time," he continued.
The show also became a reunion of Cebuano beauty queens, strutting down the runway. Miss Universe Philippines 2021 Beatrice Luigi Gomez wore a Ronald Enrico pleated bouffant while Miss Universe Philippines 2019 Gazini Ganados modeled a strapless corset gown by Valerie Alvez. Alejandro Godinez, Jr. made a dainty, tea-length dress for Miss Earth 2014 Jaime Herrell.
Other Cebuano designers who also wooed us with sweet emotions were Dexter Alazas, Edwin Alba, Edwin Ao, Harvey Cenit, Hanz Coquilla, brothers Jun and Rei Escario, Oj Hofer, Jian Lasala, Dino Lloren, Wendell Quisido, Philipp Tampus, Mike Yapching, and Humberto Villegas.
Dubbed "Cebu's king of fashion," Philip Rodriguez closed the runway with a modern interpretation of one of Ramon Valera's terno dress in silk organdy. He added a bouquet made of "lagang"—chamber nautilus shell shaped to flowers a religious decorative art. "I wanted to do an homage to our national artist and did my own interpretation for a modern bride. I liked the origami folds, something away from the usual silhouettes of big skirts. Actually, I fused three eras. The 50's era of Valera, 60's hairdo and cat's eye, and the colonial era of lagang all interpreted in current looks," he shared. "That's why we had that Susan Roces bridal hairdo and point d'esprit net veil for drama."