The former Givenchy creative director finds the ultimate of luxuries in her special collection Uniqlo: C–time.
Clare Waight Keller is no stranger to creating a timeless wardrobe desired by women the world over. The designer's previous tenures at Chloe and Givenchy were equally characterized by her distinctive brand of femininity, adapting her vision across ready-to-wear and haute couture collections. As creative director at the latter, she dressed everyone from Rihanna to Rachel Weisz and famously set a new benchmark for bridal elegance as the woman behind Meghan Markle's wedding dress.
Announced in April 2020, Keller's departure from Givenchy was immediately followed by a stint in the English countryside with her family, as much of the world went into the first lockdown of the covid-19 era. But the designer would return to London shortly after–a change that would provide the inspiration for what was to be her next big appointment: Uniqlo C.
Whilst a departure from the luxury settings Keller has become accustomed to, the designer has long been a Uniqlo fan herself–a strong foundation for merging the two worlds. "I appreciate the detail, the quality and the focus on innovation," she says, detailing the men's cashmere sweaters as a mainstay of her own wardrobe. "Femininity is something I've always had in my work and I felt it's something I could bring to Uniqlo that speaks to my vision–I've played with that boy-girl sensibility in this collection."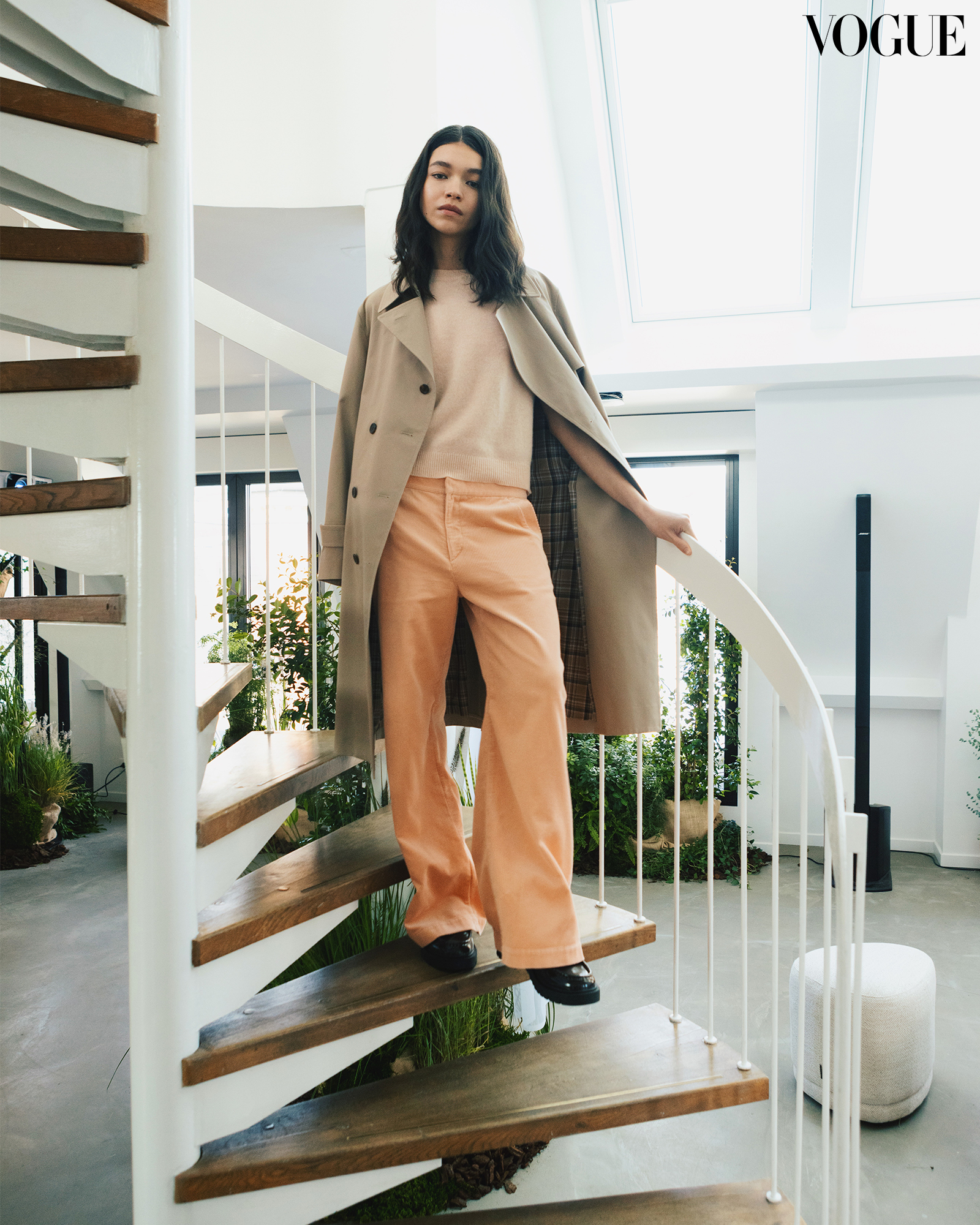 Tugging at adjustable strings on a flowing chiffon dress at the global launch in Paris, the designer is pointing out the small details that have emerged as a result of creating on such a huge scale. Designing across so many different markets, she points out, brings its own unique challenges, amongst them the importance of achieving quality at a lower price point. "We've been very careful with fabrics, in particular, to achieve the very best quality we can," she says.
Two years in the making, the luxury of time marks unchartered territory for Keller, who has been used to working across multiple collections in the space of six months, with up to 250 pieces in a single collection. And therein lies the beauty and the challenge, she says. 'You have to pay attention to the styles that will make the most impact… I love working on this scale and being able to distribute your collection to so many people.'
From global to local, it was a place very close to home that was the starting point for this collection. "A weekend in Hackney Wick" is the text that dominates her moodboard, but what is it about this area of London that has inspired her? "It's home to new architecture, lots of young people and new businesses and there's a vibrant spirit there that was the perfect starting point," the designer says. "By just observing the people, you see a way of wearing clothing that's evolving with the way of life. We're living and working in a more transitory way and I wanted to address that."
The key pieces of the collection speak to this notion: a lightweight trench coat that lends itself to tailoring and denim; a boxy cable knit cashmere sweater that is perfect for layering; slouchy corduroy trousers that are instantly transeasonal and, it's worth noting, will elate fans of Keller's Chloe days. Other notable moments include oversized check coats and chunky leather loafers and knee-high boots that mark Uniqlo's first foray into footwear.
It's precisely this multifunctionality that was central to creating a successful collection for such a global customer. "I was on a call with the team in Tokyo where I was in a cashmere sweater and they were boiling in a t-shirt," says the designer. "We're all living in different climates and the breadth of their customers really needed to be addressed in the collection. That's the reason everything is a light layer."
The designer also applied her signature use of colour to address the issue of varying climates. "Someone in the heat of Manila might be drawn to the lemon yellows, whilst a customer living in Autumnal London might want to wear the deeper browns," she says. "The whole collection offers completely different ways to interpret one capsule."
Speaking of a capsule wardrobe, does she have any advice for building one from just a few pieces? "Number one is outerwear – a statement coat always finishes a look for me. Number two is a pleated skirt – it works on everyone no matter your shape or size and is such a versatile silhouette. And finally, you can never go wrong with a cashmere sweater."
Uniqlo's recent TikTok success (#uniqlobag has over 100 million views to date whilst #uniqlopants isn't far behind) has earned the brand a new generation of loyal customers, and there's no denying that a few pieces from Keller's Uniqlo C are likely next in line for viral status – the debut foray into footwear would be an obvious candidate. But the designer has other goals in mind, specifically timelessness and longevity. "I wanted there to be a timeless quality and for these pieces to last ten, fifteen years," she says. "It's about people buying into something they will have for a long time."
The collection launches into 150 stores worldwide on September 15th.